The Bentway works "to ignite the urban imagination", using the city as site, subject, and canvas.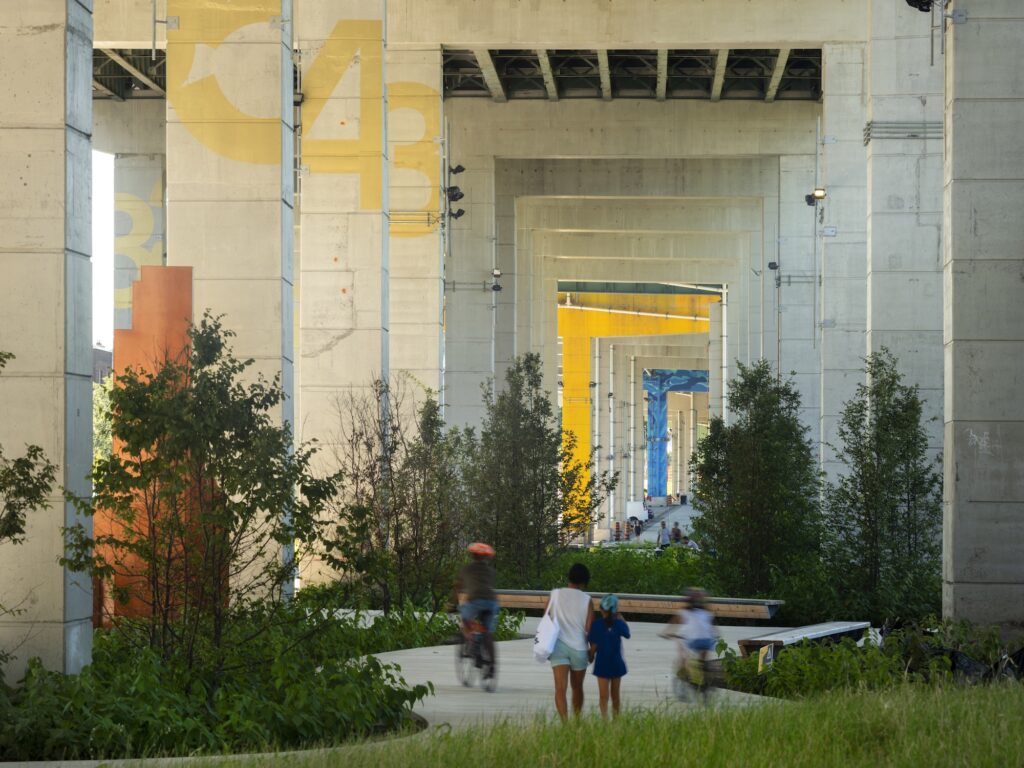 Anchored under Toronto's Gardiner Expressway and guiding its complex future, The Bentway is a growing public space, and much more. We are a new type of civic organization: a not-for-profit, powered by vital partnerships with the City of Toronto, residents, supporters, artists, city-builders, and dreamers. The Bentway is a creative catalyst rooted in experimentation, leading a creative movement to re-imagine the opportunities of urban spaces. ​
Phase 1 of The Bentway opened in 2018 and serves as a demonstration of what's possible under the Gardiner.
our story
Toronto is blooming upwards, hugging tightly around the Gardiner.
Today, more than 200,000 people reside next door to the elevated portion of the Expressway (stretching from Dufferin St to the DVP), in dense high-rise developments deficient in public space or cultural life.
Together with partners, we are transforming the Gardiner from highway obstacle to hybrid opportunity, helping build a healthier, more connected, and more inspiring city. Read more about our vision for the Gardiner here.
our origins
Bentway Phase 1 was made possible through the collaboration of a range of city-builders and experts, including co-founders Judy & Wilmot Matthews, the City of Toronto and Mayor John Tory, Ken Greenberg, PUBLIC WORK, The Bentway Conservancy staff and volunteers, Waterfront Toronto, and Artscape.
The surrounding area is rich with layered histories and futures. The site follows the original shoreline of Lake Ontario, when it was an important junction for trade, and a hunting and a gathering place for Indigenous peoples. The Bentway is located on the Treaty lands of the Mississaugas of the Credit, and is the traditional territory of the Haundenosaunee, the Huron-Wendat, the Metis and many other Indigenous nations.
The first phase of The Bentway is located on lands that are part of Fort York National Historic Site, recognized by the Government of Canada as being of national significance.
our core values
Be provocative.
We ask big questions about cities. We are instigators and catalysts, always pushing to expand, diversify and flip perspectives; to challenge convention; and to spark change.
Embrace complexity.
We celebrate the countless layers of the city, eschewing a singular perspective or paradigm to embrace hybridity, multiplicity, even contradiction. Like the city itself, we contain multitudes.
Do it together.
Powered by partnership, we champion diverse voices and creative practices. We develop spaces, conversations, and experiences that are inclusive and resolutely public.
our vision
Our long-term vision is multi-tiered:
For our organization to be a leader in leveraging the creative power of public art to advance urban transformation.
For our city to re-imagine the Gardiner Expressway as a new model for hybrid infrastructure, connecting local residents to each other, to the Waterfront, and to key emerging civic opportunities.
For cities and city-residents everywhere to see and build new possibilities out of their barriers, obstacle, and relics.
our team