The Bentway offers year-round artistic, cultural, educational, and recreational activities and events, including public art installations, seasonal and special exhibitions, performances, research and inquiries, workshops, talks, and tours.
current programs
On view now
Bentway Staging Grounds is a site of active, environmental learning that continues The Bentway's creative work along the Gardiner Expressway. Visitors are invited into a living laboratory for urban ecology, with experimental gardens that use rainwater run-off from the highway above to support the growth of flowering plant species.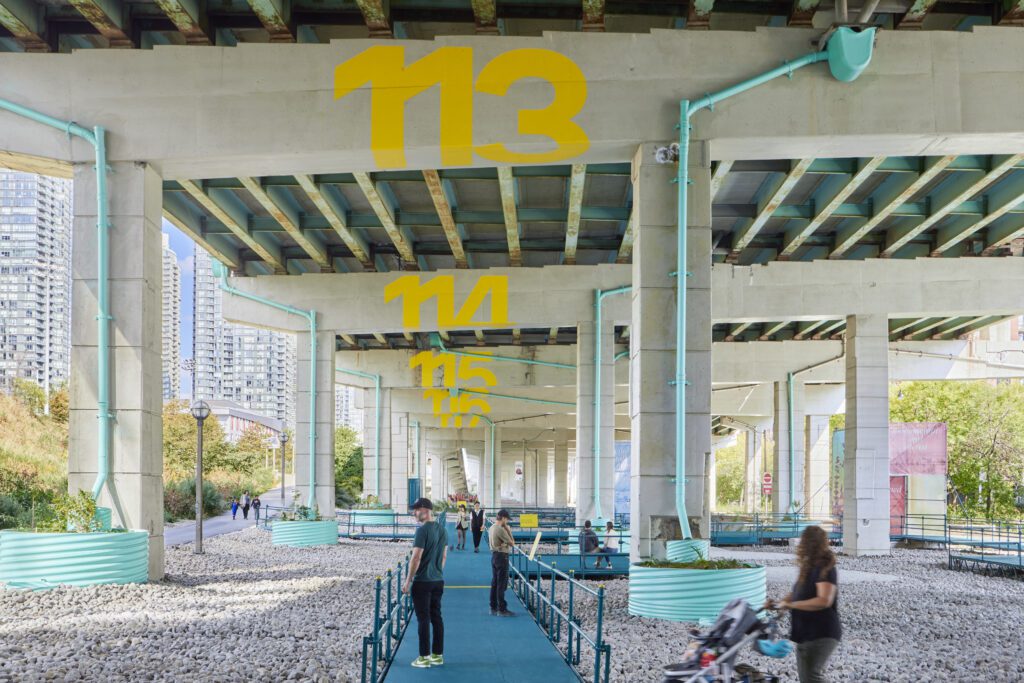 all programs
to

Winter is back at The Bentway! We're pleased to welcome neighbours and fun-seekers for ice skating, the return of our signature Polar Bear Skate, free workshops, family programming, art, and more.
past programs
to

Get into the Halloween spirit with The Bentway! Join us for a week full of spooky stories, a ghost walk and, yes, the return of your favourite pup-friendly paw-rty, Howl'oween.

to

This Nuit Blanche, we invite you down to The Bentway and surrounding area for a series of installations that light up the neighbourhoods along the Gardiner Expressway.

to

Beyond Concrete brought together artists, architects, botanists, and neighbours to explore the nature of the Gardiner Expressway. Discovered a uniquely urban ecosystem – where human-made infrastructure intertwines with resilient flora and fauna – at a summer of free artworks, events, and celebrations.

to

The Depanneur and The Bentway are teaming up again to bring you a fabulous lineup of diverse and delicious dinners. Guests are seated together across 10 tables of 6, sharing platters of food as part of a communal dining experience.

to

Inspired by the water systems that have shaped Toronto, Confluence invited visitors to flow through an engrossing convergence of natural and human-made forces. The picnic table, a familiar fixture in parks across the city, contorts into a dynamic sculptural installation; twirling, cascading and cresting to evoke Toronto's buried, lost rivers.