what's on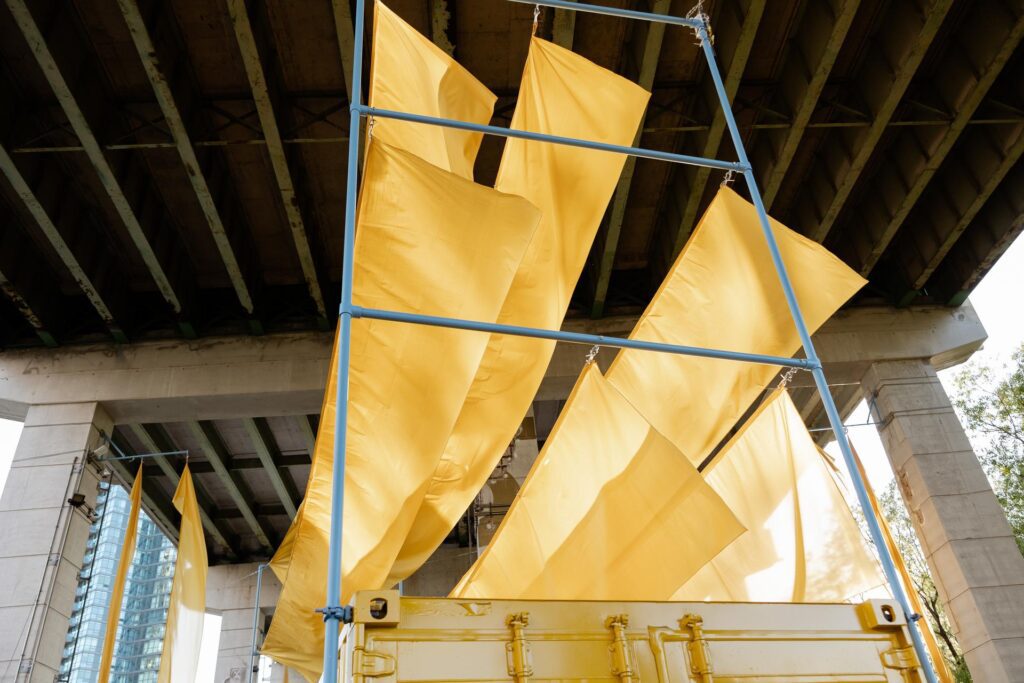 What can the wind teach us about our city's infrastructure and our own needs for comfort? Atmospheres manifests this powerful force into a series of soaring soft sculptures, sound, and video that both generates and visualizes environmental data collected under the Gardiner.
An otherworldly creature germinates at The Bentway, its parasitic tentacles emerging from the history of waste materials used as landfill to create the solid ground where the Gardiner now sits. Woven with bamboo, living plants, and locally-sourced discarded plastics, Leeroy New's first North American commission presents nature reasserting itself amidst concrete infrastructure.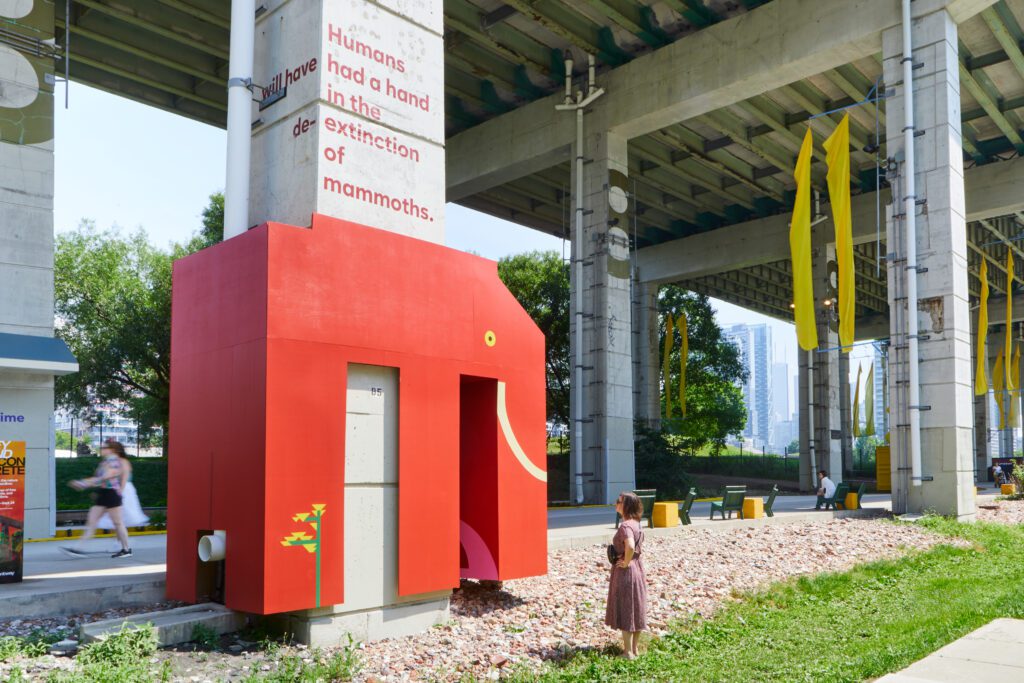 May 26 to Sep 24, 2023 – Viewable 24 hours a day
Geometric animal sculptures emerge from the Gardiner, representing species who've inhabited this place across time – from prehistoric woolly mammoths to sly modern foxes. Alex Sheriff's speculative new work uncovers each of their stories and reconsiders our own role within natural history.
Remarkable, powerful, and resilient, "lichen" are ancient and diverse life forms, both an individual and a community. Anishinaabe filmmaker Lisa Jackson re-imagines her acclaimed short film as a multi-media installation and invites us to learn from lichen about being in relation to our environment and one another.
Photographer Genesis Báez co-creates with the soil and stormwater below the Gardiner, burying film underground beneath the highway to absorb the surrounding landscape. Developing and displaying the images at large-scale reveals the reciprocal nature of the Expressway and its ecology. Co-presented with the Scotiabank CONTACT Photography Festival.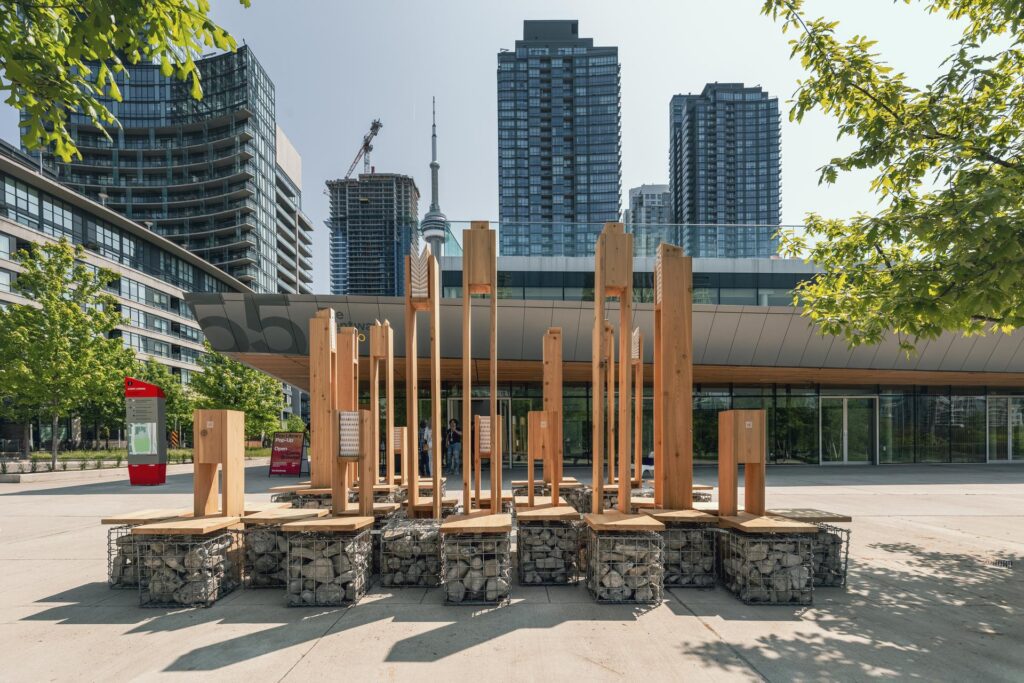 At The Bentway Studio facing Canoe Landing Park, a new set of public furniture invites interspecies-encounters with urban wildlife. Through UV-painted details, the piece offers glimpses of how birds and insects see beyond the human eye and offers a more-than-human lens through which to experience the urban ecosystem.
Bentway Public Space Fellow Ella Hough's Benchway public furniture project starts a conversation about the waste produced by the private construction industry, its impact on our city, and the potential for a circular economy approach instead.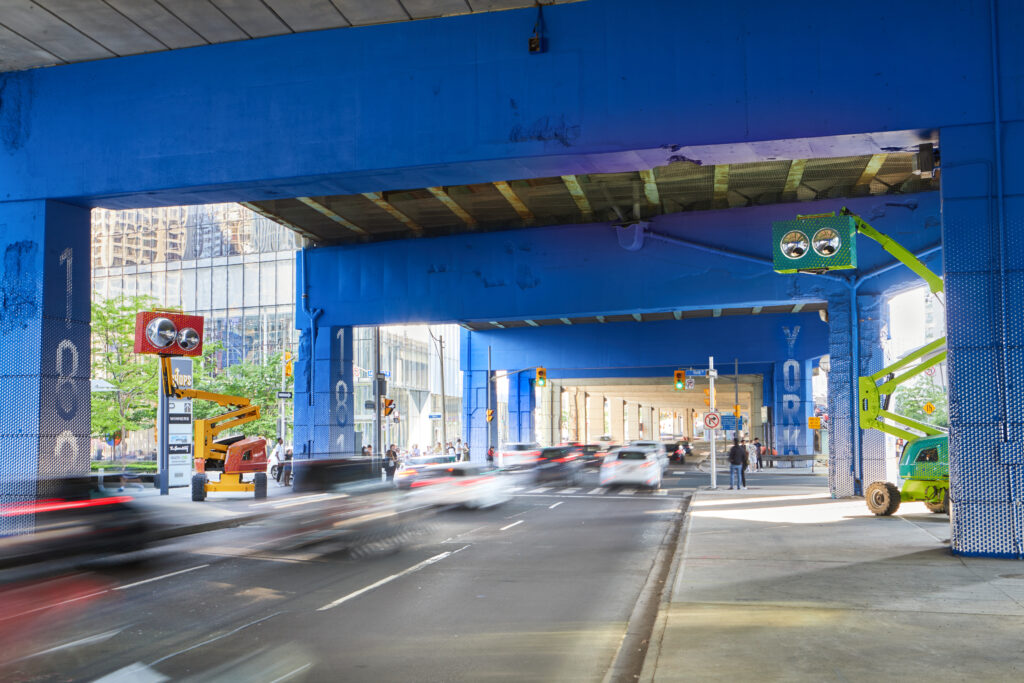 Boom Town employs vibrant colour, playful characters, and environmental lighting to enliven the York Street intersection, improving safety and accessibility for pedestrians and cyclists.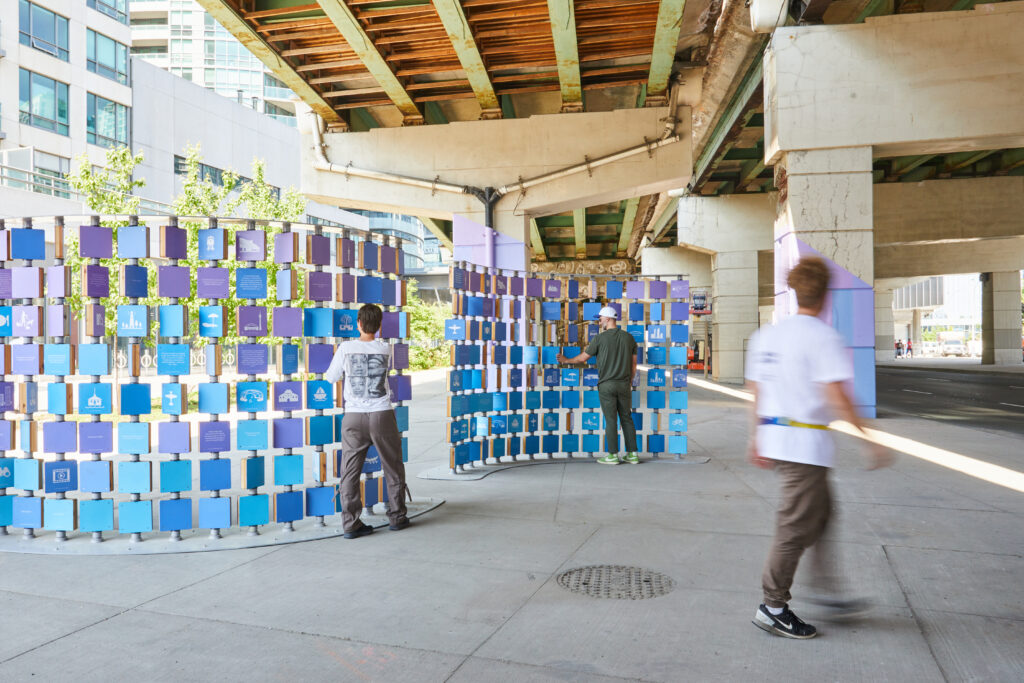 Set to be installed in Summer 2023 (under the Gardiner at Simcoe Street), Pixel Story references the multitude of vantages, scales, speeds, and distances at which to view the Expressway, enticing passersby to move forward towards the waterfront, or pause to reflect on its diverse stories.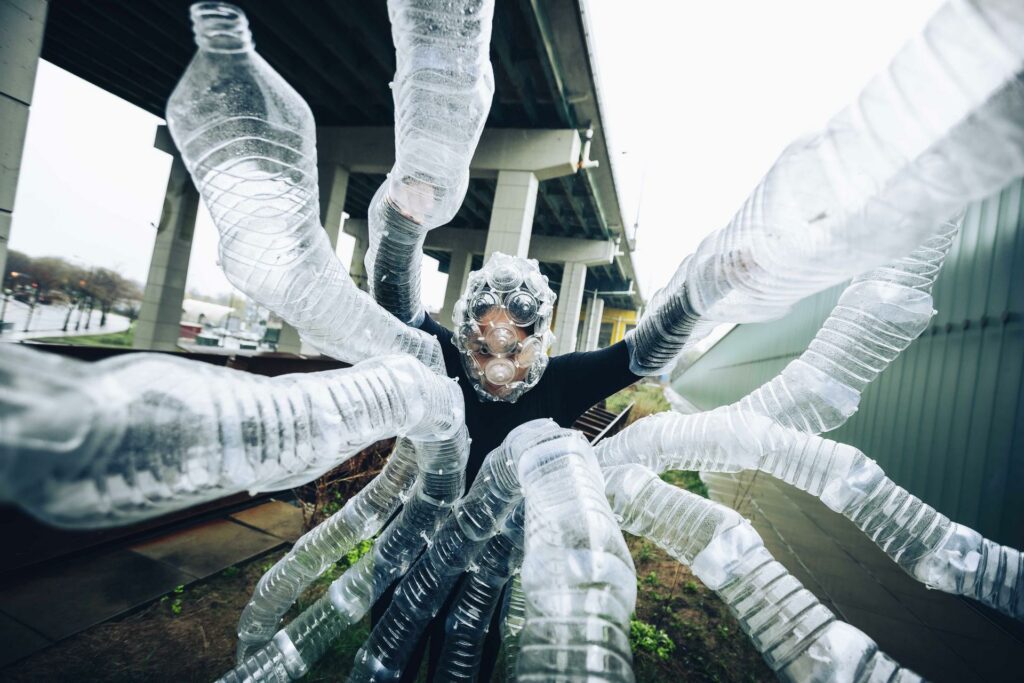 Nuit Blanche, September 23 with performances at 10pm, 11pm, 12am, 1am
A companion to his installation at The Bentway, Leeroy New's The Aliens of Manila is a set of sculptural costumes made from locally-sourced discarded plastics. At first glance eye-catching and whimsical, the Aliens call attention to experiences of overseas Filipino workers as an essential, yet invisible workforce across the globe.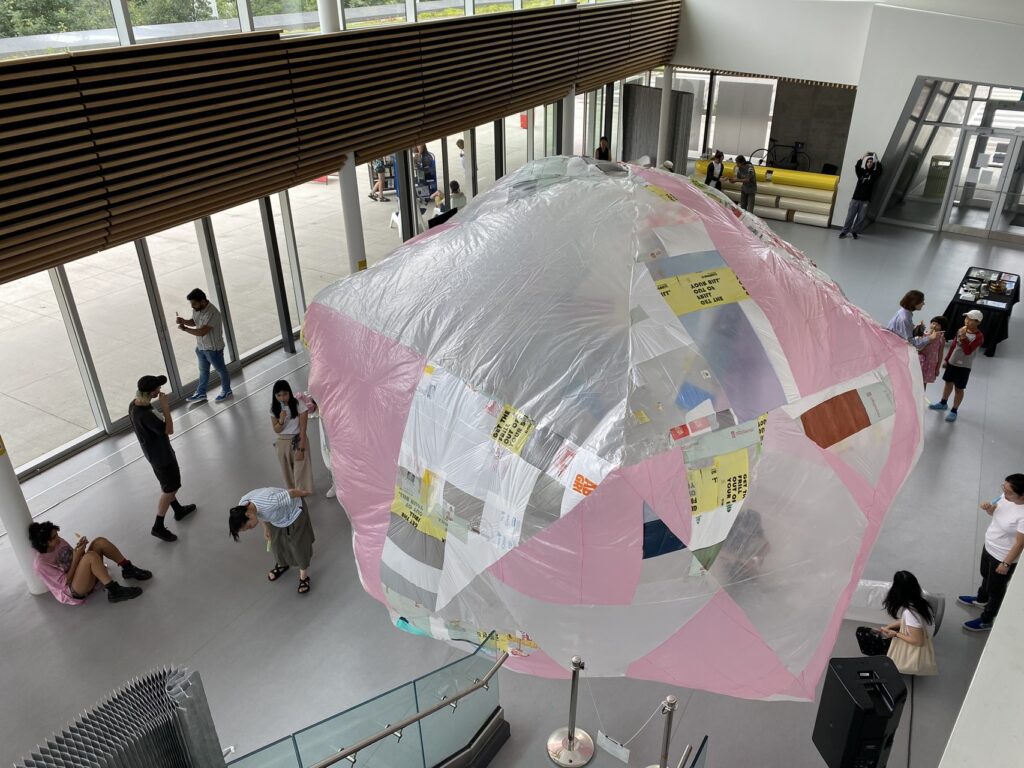 Step inside an immersive installation that reuses upcycled plastics to explore the possibilities of inflatable architecture, circular design, and the role waste plays in the larger Gardiner ecosystem. Experience a snapshot of our shared consumer habits transformed in a unique gathering space, with a mesmerizing soundscape by MONEYPHONE.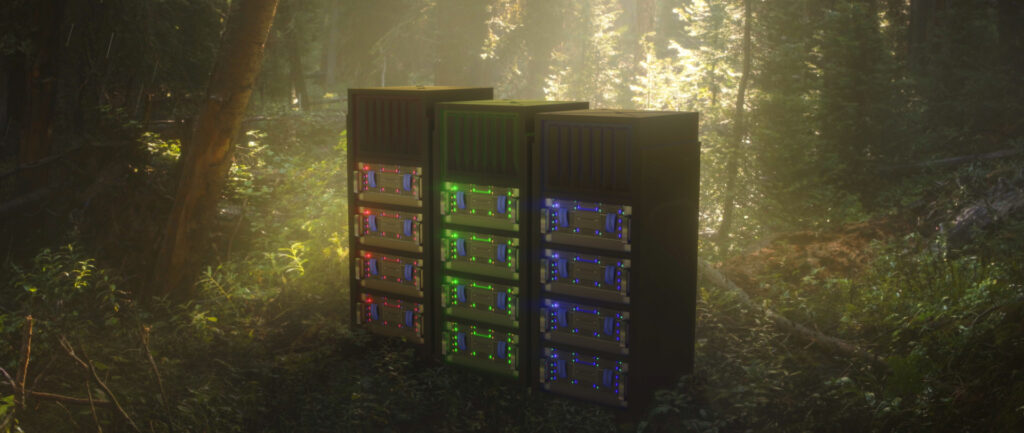 During Nuit Blanche, the iconic Canada Malting Silos will be brought to life by a large-scale projection by Mark Dorf that reflects on the changing nature of both the building and the city at large. As this historic property transforms into a new civic and cultural landmark, The Bentway and the City of Toronto have teamed up to demonstrate the creative potential of this unique canvas.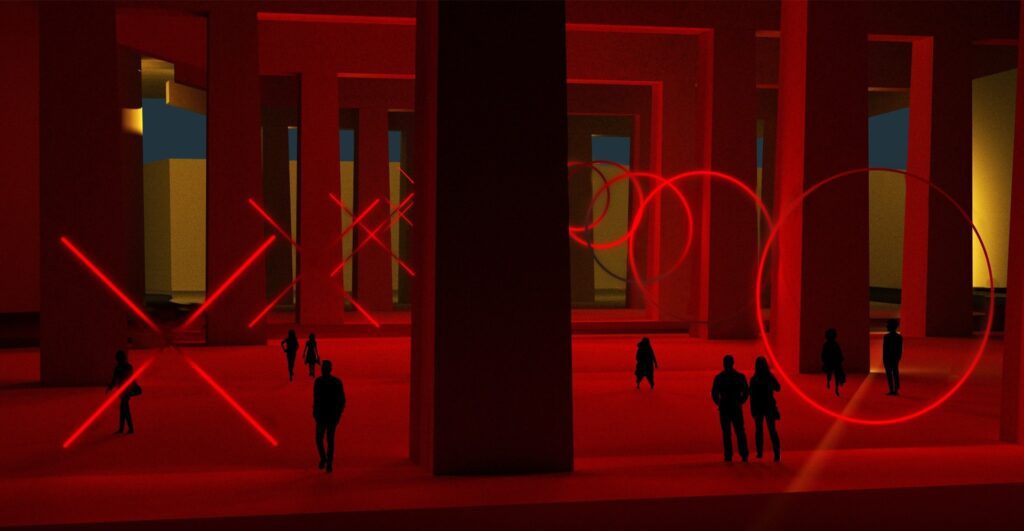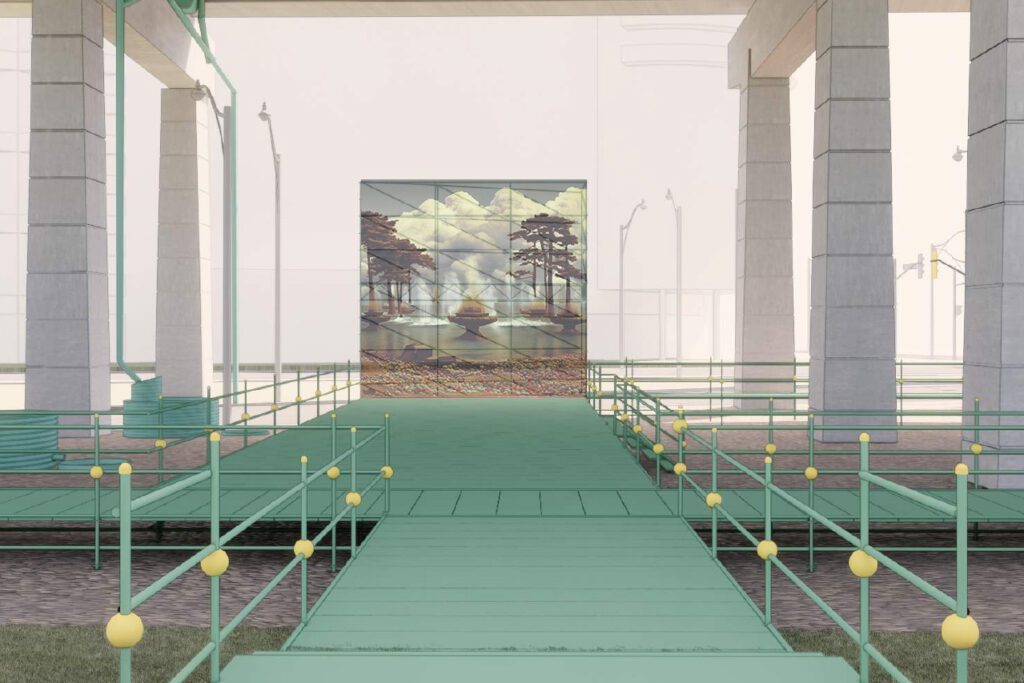 Logan MacDonald premieres Fountain Monumental, a series of 20-foot-tall images situated within the new Bentway Staging Grounds public space pilot. MacDonald re-imagines the original shoreline of Lake Ontario and invites us to consider the unique history of our city's waterways while also imagining a decolonial future that prioritizes ecological preservation.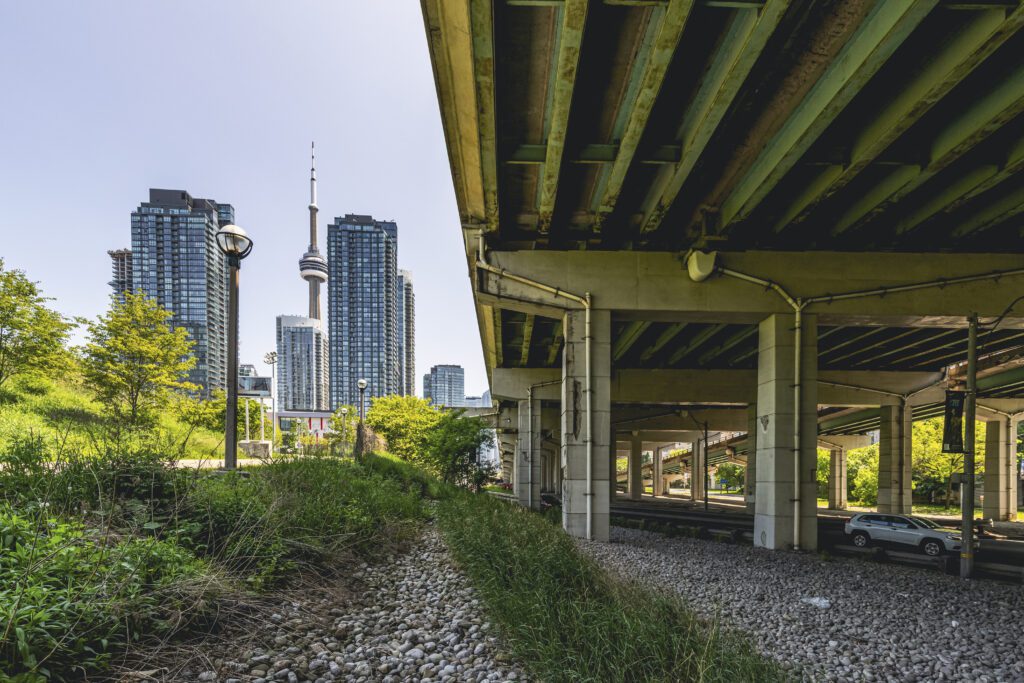 Join us for a walking tour and presentation of the Under Gardiner Public Realm Plan on September 26, as we explore how the spaces under the Expressway can better serve Toronto.