Bentway Staging Grounds is a site of active, environmental learning that continues The Bentway's creative work along the Gardiner Expressway. Opening September 2023, visitors are invited into a living laboratory for urban ecology, with experimental gardens that use rainwater run-off from the highway above to support the growth of flowering plant species.
Bentway Staging Grounds is a temporary installation that unlocks an expanded public realm and programming opportunity for the CityPlace / Fort York neighbourhood. Transforming a vacant space below the Gardiner Expressway into a living laboratory, the project responds to the dynamic conditions of the site and educates visitors about urban ecology and stormwater management.
Designed by Agency—Agency (New York City) and SHEEEP (Toronto), with engineering by Buro Happold, graphic design by Neil Donnelly Studio, and horticultural consulting by Brother Nature, Bentway Staging Grounds collects and leverages runoff water from the highway above to irrigate oversized planters in the space below. These planters support the growth of diverse, flowering native plant species such as Milkweed, Agastache and Yarrow, while passive water filtration and retention helps to reduce the risk of local flooding.
Located at the intersection of Dan Leckie Way and Lake Shore Boulevard, the design for Bentway Staging Grounds introduces a network of ramps and elevated walkways that allow visitors to travel deep into the space as an extension of Canoe Landing Park to the north. These new pathways continue The Bentway's ongoing efforts to transform the Expressway into a better connector for pedestrians and cyclists, celebrating their procession to surrounding waterfront parks and trail systems. Bentway Staging Grounds is a new type of public infrastructure that blends art and education, public space and experimentation, repositioning the Gardiner as a site of environmental regeneration.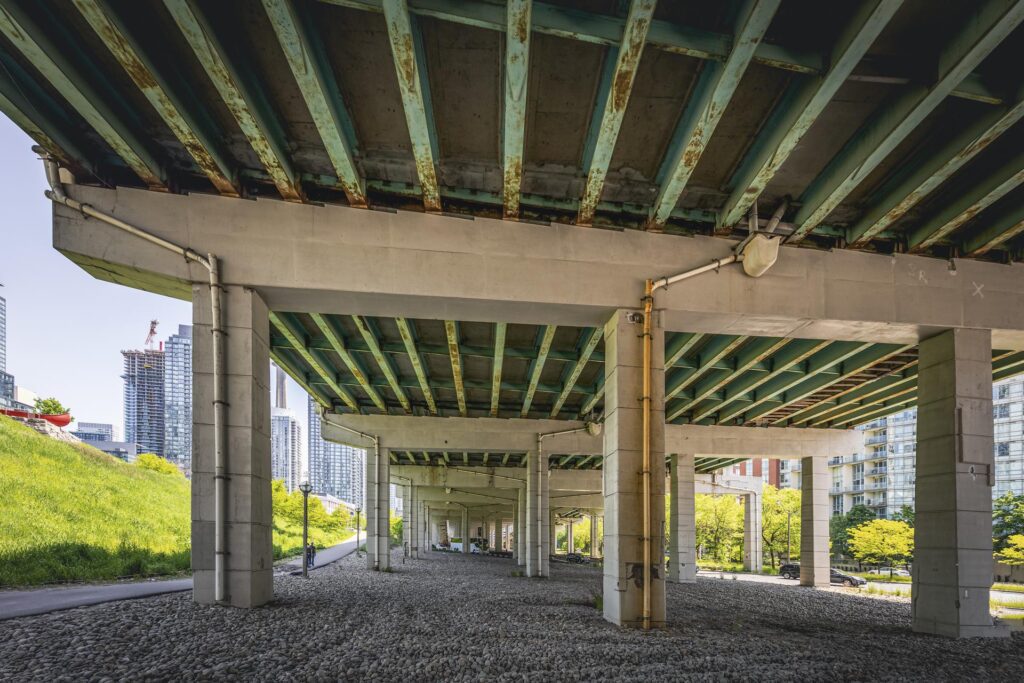 Bentway Staging Grounds is an interim intervention that will remain in place until the City of Toronto's Gardiner Expressway Rehabilitation work commences in the area (currently scheduled for late 2025).
Over the project's two-year duration, The Bentway will commission artists to present original, rotating artworks on a series of scaffolding towers set to line the site facing Lake Shore Boulevard. The inaugural commission is by local artist Logan MacDonald. Fountain Monumental is a series of 20-foot-tall images that re-imagine the original shoreline of Lake Ontario, which traced the same path as the Gardiner Expressway today. MacDonald challenges the notion of historical accuracy and authorship by provocatively collaborating with artificial intelligence (AI) to produce these arresting images. He presents a revisionist history and a speculative, fantastical present and future.
Location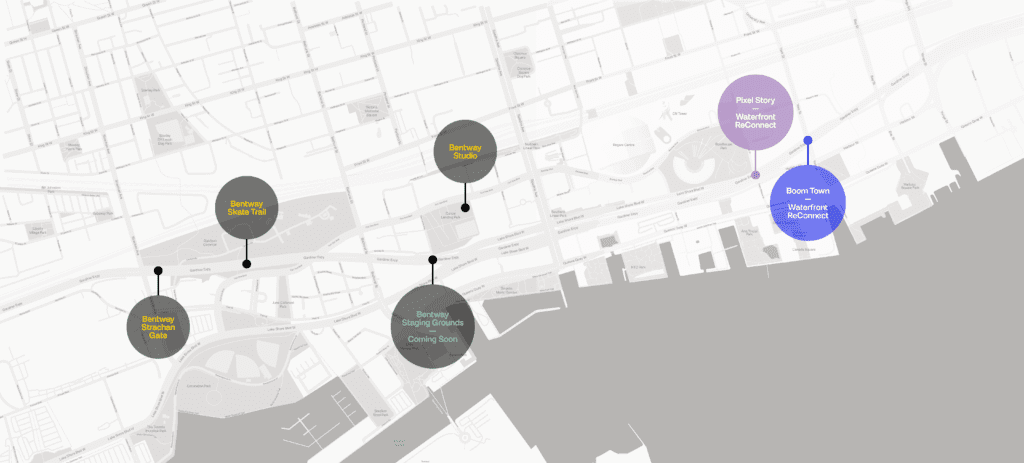 Design Teams
Agency—Agency: Tei Carpenter, Jake Rosenwald and Tanya Maneeintr
SHEEEP: Reza Nik, Connor Stevens, Sam Shahsavani
Special thanks to the City of Toronto.
Bentway Staging Grounds Eco Workshop
Join us at Staging Grounds for an introduction to the features, functions, and possibilities of the site through a guided tour and foraging walk. Learn from the project's ecological consultant, Brother Nature, about the process of rainwater collection and filtration from the Gardiner run-off and how that feeds the growth of native plants to support urban ecology. Following the walk, participants will explore creative ways to collaborate with nature through a hands-on art activity led by a local artist which will utilize foraged materials from the walk to create artwork inspired by the site and local environment.
collaborators
supporters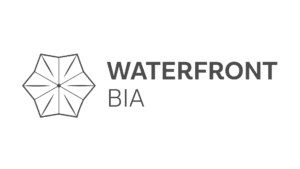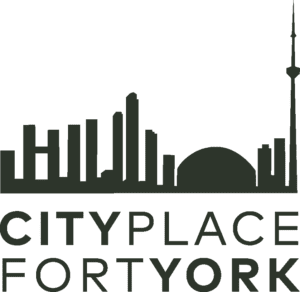 Anonymous
Maxine Granovsky Gluskin and Ira Gluskin
The Bentway's growing family of friends and supporters