Waterfront ReConnect challenged proponents to explore and expose the layered histories of the Gardiner, to address safety, reinforce a sense of arrival and transition, and transform an obstacle into an opportunity for enhanced connectivity.
Drawing on The Bentway's spirit of adaptation and innovation, six design teams from across the country were selected to participate in the competition. Each team completed an eight-week design exercise to bring their ideas to life in their final proposals. The resulting proposals showcase how the Gardiner Expressway can be reimagined, and how it can serve as a thriving civic asset both above and below the deck.
York Street Intersection
Future Forest
sans façon + zeidler
Drawing inspiration from our shifting relationship to the natural environment in cities, Future Forest contemplates what it would mean to re-designate the Gardiner Expressway as a productive, constructive, and an environmental investment for the city at large through the planting and nurturing of the Gardiner's own native forest.
Sans façon is an art practice based in Calgary. Zeidler Architecture is based in Toronto with offices in Toronto, Calgary, Vancouver, and Victoria. Together, they are excited to explore the unique opportunities under the Gardiner, and instigate new relationships with these complex places, to reconsider our cities, their multiple layers of histories, who they are for, how we enjoy them, and their equity of use.
Waking the Shore
LeuWebb Projects + DIALOG + Mulvey & Banani Lighting
Reflecting on the city's unique relationship to Lake Ontario, the deep histories of place, and the broader journey to a more sustainable, humane and ecologically just future, Waking the Shore features sculptural forms of rising waves, kinetic wind chimes, and solar-powered illuminations under the Gardiner.
LeuWebb Projects is a Toronto based artistic practice led by Christine Leu and Alan Webb. DIALOG is an architectural firm with offices across North America including Toronto. Mulvey Banani Lighting is a lighting design consultancy also based in Toronto. Collectively, they are inspired to activate and engage the public realm through art and landscape design across a wide range of scales, materials, senses, and durations, and want to push the boundaries of what's possible and create a prototype for the city with the capacity to transform.
Simcoe Street Intersection
Patina of Life
Daily Tous Les Jours + SvN Architects + Planners + Latéral
Patina of Life is an artwork that reintegrates nature as part of the everyday experience of the city and proposes a series of interactive pathways, each consisting of a framework of life-supporting modules that combine to surround pedestrians.
Daily tous les jours is an art and design studio leading an emergent field of practice compiling technology, storytelling, performance, and placemaking based in Montréal. SvN Architects + Planners is an integrated planning and design firm based in Toronto. Latérale Conseil is an engineering firm also based in Montréal. Collaboratively, they will examine life under the Gardiner, and how reimagining such spaces can lead to new relationships with our urban infrastructure, strengthening connections between people, nature, and communities.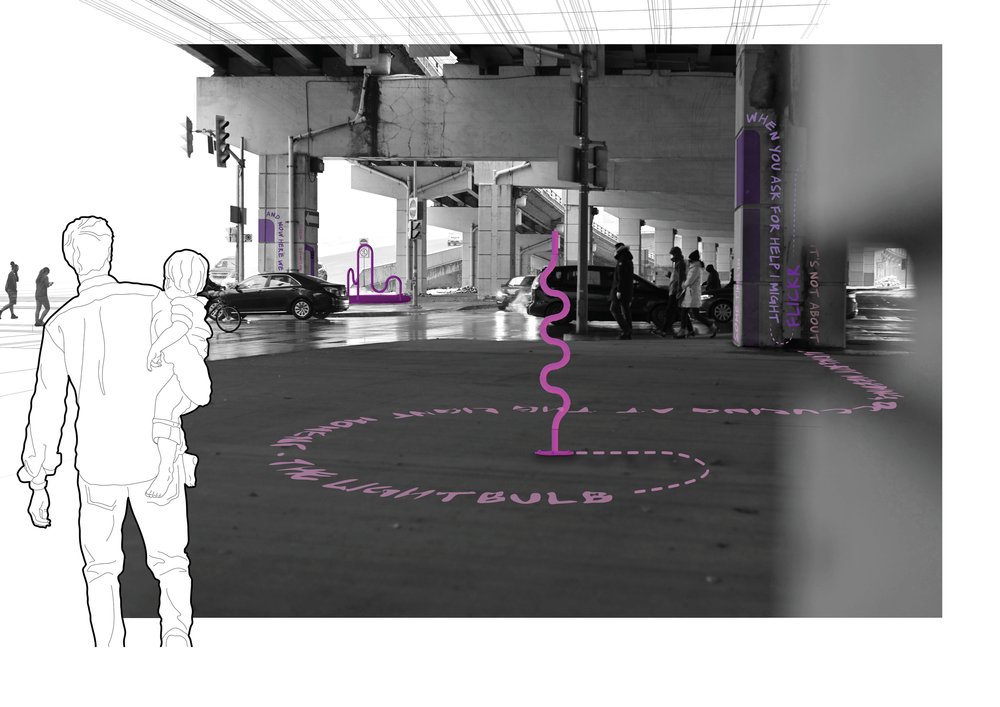 Fragments of a Home
SOCA + Tiffany Shaw-Collinge + SHEEEP
Oscillating between private and public spaces of domestic life, Fragments of a Home presents a catalog of architectural memes and follies that invite open-ended associations of comfort and joy for passers-by, while extending an understanding of 'home' beyond the individual to broaden our collective relationship surrounding safety, connection with an environment in transformation.
The purposeful gathering of SOCA (Toronto/Tkaronto), Tiffany Shaw-Collinge (Edmonton/amiskwaciwâskahikan) and SHEEEP (Toronto/Tkaronto) will strengthen and build upon the intangible heritage (stories and meaning) surrounding the Waterfront ReConnect design competition. Our team has expertise in public art, curation, community engagement, urban design, and architecture. We represent values inherent to water, which is to remain flexible to the site's challenges while revealing its many opportunities through a historical, political, and environmental lens.