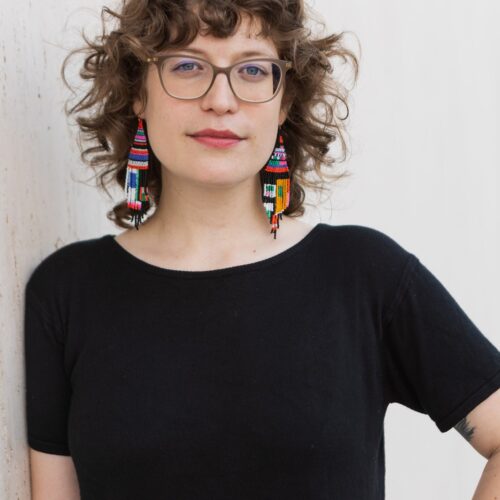 Anna Gallagher-Ross (she/her) is a curator and writer working across performance, dance, and visual arts, with an emphasis on site-specific and socially-engaged practices. As a curator, Anna seeks to be an advocate for artists, providing resources and supportive platforms that enable them to create their most adventurous work, as well as forging inclusive and accessible encounters between art and audiences. Anna believes in the unique possibilities that can emerge from the live experience. She sees curating as an act of community building.
From 2017-2021, Anna was Co-Artistic Director & Curator of Fusebox Festival, the acclaimed international performance festival, which features interdisciplinary artists from Austin, the U.S., and around the world. In 2020, Anna was a guest curator at Performance Space Sydney's Live Works Festival. She was also part of the inaugural cohort of GENERATE (2019-20), a joint program of the British Council and Arts Council England that promotes exchange between a select group of US and UK performance curators and producers.
Prior to Fusebox, Anna's work in the arts sector spanned community arts organizations and large-scale museums and theatres in Canada and the U.S. In addition to holding producing and administrative positions at Toronto's Nightwood Theatre, The Paprika Festival, and Theatre Revolve, Anna was Curator and Managing Editor at Sister Writes, an arts and empowerment program for women affected by poverty, underhousing, trauma, mental health issues, and addictions in the Parkdale and Bloordale neighborhoods. She was also Assistant Curator for the 2017 Live Arts Biennial at the Fisher Center for the Performing Arts and Curatorial Fellow for the 2016-17 interdisciplinary exhibition Merce Cunningham: Common Time at the Walker Art Center. Anna has independently curated and produced performances, public art projects, exhibitions, and programming in Canada, the U.S., Europe, and the U.K. Her writing and interviews have appeared in Art Papers, C Magazine, The Walker Reader, Theater, as well as numerous exhibition catalogues.