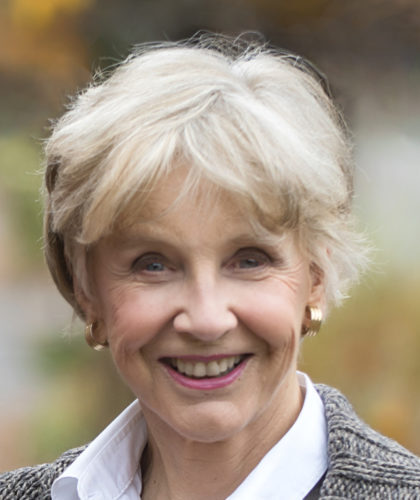 Judy and Wil Matthews have a history of leadership and philanthropic giving to a wide variety of the City of Toronto's programs, arts and cultural organizations, and city-building initiatives. Passionate Torontonians, they are deeply committed to enriching the City and the lives of its citizens.
Judy Matthews holds a long-standing interest in urban renewal projects that emphasize creativity, beauty and greener more inviting spaces. She first became interested in civic initiatives in her early twenties while working on the anti-Spadina Expressway campaign. After her four children were settled in school, she completed an M.A. in Urban Planning from York University and began honing her professional expertise in the Planning Departments at Metro Toronto, the City of Toronto and the University of Toronto. Judy has directed her energy to realizing an impressive array of projects that improve Toronto's livability and creativity including the award-winning St. George Street revitalization and the development of the $30-million Open Space Master Plan for the University of Toronto, as well as the creation of the Music Garden at Harbourfront. A seasoned expert in creative public and private partnership solutions and an invaluable resource, Judy strongly believes in the role not-for profit organizations organizations play in civic life. A few of the organizations that have benefitted from her guidance include Creative Trust, The National Arts Centre, Toronto Community Foundation, The United Way and more recently, Artscape, the Canadian Opera Company, Evergreen, and Park People.
Judy has received many honours for her work including being nominated one of Toronto Life's 50 most influential people of the year in 2016; a 2016 Canadian Urban Institute Award; and a 2014 Outstanding Volunteer Fundraiser Award from the Association of Fundraising Professionals.