Remarkable, powerful, and resilient, "lichen" are ancient and diverse life forms, both an individual and a community. Anishinaabe filmmaker Lisa Jackson re-imagines her acclaimed short film as a multi-media installation and invites us to learn from lichen about being in relation to our environment and one another.
Anishinaabe filmmaker Lisa Jackson has reimagined her acclaimed short film Lichen as a multi-media installation which invites us to learn from lichen about being in relation to our environment and one another. Shot in macro 3D and set to the words of lichenologist Trevor Goward, Lichen is a magnifying glass on the complex worlds of these remarkable life forms.
Ancient and diverse, both an individual and a community, lichens can live in the most extreme climates, including outer space and under a highway. They also play a key role in our landscapes: they break down materials like rock and concrete, transforming them into soil; they are very sensitive to pollutants, and so act as a barometer, a warning, of the human impact on our planet; and, perhaps most important for us, their existence is based on interconnected and interdependent relationships between organisms.
The encounter with lichen up close shifts our perspective, revealing connections to the delicate intricacies of our own world amidst the climate crisis. Jackson's filmic installation, presented under the concrete of The Bentway, underscores the importance of reimagining our relationship to our infrastructure, the city, and one another.
What to expect:
All gender and accessible washrooms available during 1 – 8:30pm on weekdays, and 10am – 8:30pm on weekends. The washrooms will be closed on Mondays, with the exception of holidays.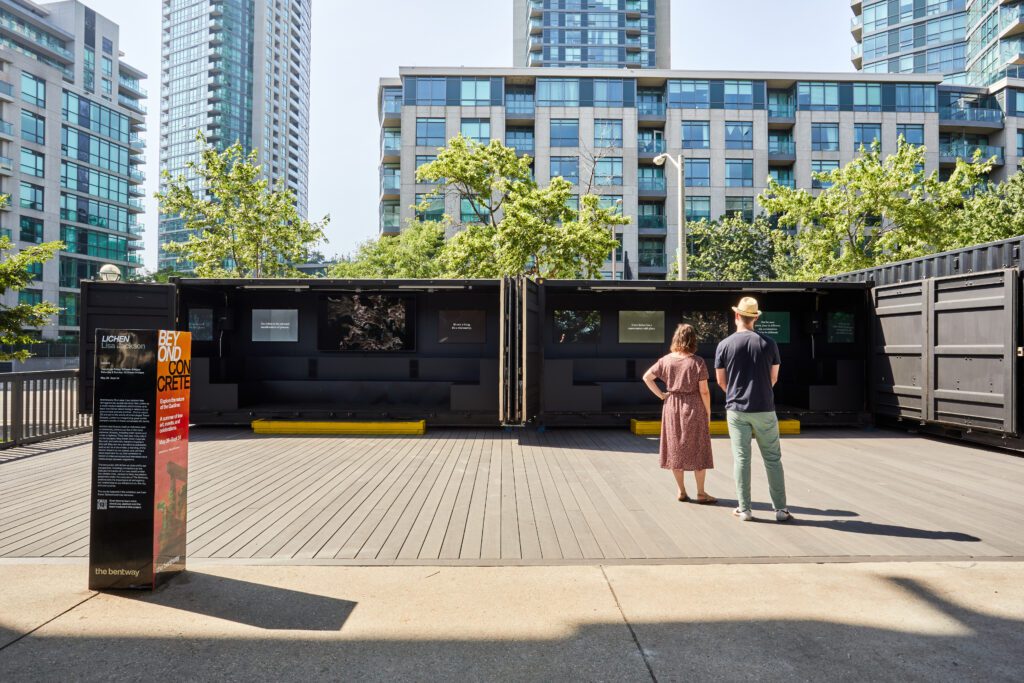 collaborators
project team
Lisa Jackson, Director (she/her)
Terra Long, Editor (she/her)
Trevor Goward, Lichenologist (he/him)
Bob Aschmann, Cinematography (he/him)
Janine Marchessault
Producer (she/her)
Christian Kroitor
Producer (he/him)
Prints/Lightboxes by: Beyond Digital Imaging
AV by: Phase 3 AV
supporters
The Bentway's growing family of friends and supporters
additional crediting
Film by: Lisa Jackson
Edited by: Terra Jean Long
Cinematography by: Bob Aschmann
Featuring: Trevor Goward, Lichenologist
Featuring Lichens (In Order Of Appearance):
Tree-Huggers' Pelt
Greylandic Map
Pebbled Pixie-Cup
Diamond Pelt
Lungwort
Pitted Specklebelly
British Soldiers
Stump Pixie
Bronzed Pixie-Cup
Maritime Sunburst
Toy-Soldiers
Universal Rockworm
Big-Horn Pixie
Smoker's Lung
Distributed Goldspeck
Rockface Firedot
Elegant Sunburst
Ground Dust
Rusting Tile
Nameless Pelt
Lungwort
Sheepish Pelt
Cinematography by: Bob Aschmann
Commissioned by: Janine Marchessault
Producers:Janine Marchessault, Christian Kroitor
First Assistant Director: Alice Kim
Production Managers: Aimée Mitchell, Jessica Mulvogue
Assistant Production Manager: Julia Galle
Lichen Handler: Aimée Mitchell
Sound Design: Terra Long
Interview Audio Recording: Clancy Dennehy
Additional Composition: Clancy Dennehy
Re-Recording Mixer: Cory Mandel
Mix Assistant: Kent Thomson
Stereographer: Christian Kroitor
Focus Puller: Tom C. Hall
Lighting Assistant: Isiah Medina
Production Assistants: Aidan Cheeatow, Tyler Toyne
Compositor: Andrew Jehan
Compositing Technician: Liam Ryan
Rotoscope Artist: Martin Lindley
Post Production Technicians: Isiah Medina, Daniel Negatu, Rita Tse
3d Consultant: James Stewart
Digital Imaging by: Technicolor Toronto
Digital Imaging Colourist: Jim Fleming
Digital Imaging Supervisor: Andrew Pascoe
Digital Imaging Technician: Margaret Hutz
Sales Executive: Mike Mcconnell
Digital Imaging Producers: Patrick Duchesne, Darcy Arthurs
Music
Excerpts From "Feel", "Sleep", "Creek",
"Feet", "Green", The Green Album.
Composed By Hiroshi Yoshimura.
Sona Gaia Productions, Narada Records, 1986.
Kepler Star Kic7661081b Light Curve Waves To Sound
Courtesy Of Nasa
Sun Sonification
A. Kosovichev, Stanford Experimental Physics Lab
Courtesy Of Nasa
Lichen was commissioned as part of XL Outer Worlds, a program of five short films for IMAX, curated by Janine Marchessault of the Public Access Collective and funded through the Canada Council for the Arts' New Chapter program. To learn more visit here.