Our 2021 artist residency focused on The Bentway's identity as a public space where art and recreation meet, led by Toronto's own Bekah Brown. Bekah's exploration complemented The Bentway's Summer 2021 season Playing in Public.
During her residency, Bekah explored stories of the land that Toronto and The Bentway occupy; what it looked like prior to contact and how it has changed throughout colonization. Her research will focus on traditional forms of play and recreation in Indigenous cultures found in these histories. She will incorporate her experience of reconnection as an Indigenous person in an urban setting with her research; specifically how access to land affects her journey and ability to participate in traditional forms of recreation. She aims to share her journey and findings openly, encouraging others to reconnect and heal.
Throughout this process, she will continue to consult trusted elders, creating respectful work that aligns with the teachings she has been given. This anchors her work in decolonization and ensures it is community-focused. Her aim for this residency is to create work that is educational, fun, and interactive, contributing to a more equitable future for all.
We connected with Bekah during her 2021 residency to learn more about her approach:
Tell us a bit about yourself. How does your evolving knowledge of yourself and your community(ies) help to inform the growth of your art practice?
I am of Welsh, Mennonite, Anishinaabe, and mixed European descent. I grew up knowing I had Indigenous ancestry but didn't think much about it until I was in my 20's. I was a privileged white kid who could choose whether or not I acknowledged it and I chose to ignore it. Thankfully, family members chose to acknowledge our Anishinaabe ancestry and learn, which encouraged me to do so as well. I'm still early on in my journey of learning and reconnection; I'm basically a baby but I can honestly say that the more I learn about where I come from, the more I feel like myself and this applies to every aspect of my ancestry. Knowing who I am, who my ancestors are, and where I come from is where my work starts. I often focus on what I'm currently learning in conjunction with issues Indigenous communities experience as a result of colonialism, working with community members and elders to tell stories in an honourable and respectful way.
With my work, I aim to create safe spaces where Indigenous people feel seen and loved while also offering the non-Indigenous community an opportunity to learn about some of their Indigenous neighbours. This feels especially relevant now that the non-Indigenous portion of Canada is finally choosing to see fragments of the genocide committed against Indigenous peoples in this country. When I think about it, my work is personal (and scarily vulnerable) in that it very clearly shows my journey of growth, as it is a form of processing, communication, and healing for me. Honestly, I still question whether or not I have a right to claim my Anishinaabe ancestry at least once a day but I also strive to use the gifts Creator has given me to honour the sacrifices of my ancestors and do the work to become an ancestor future generations will be proud of.
How have acts of recreation and play manifested in your work to date? What opportunities does The Bentway's Playing in Public season create for you moving forward?
Until this moment, I hadn't noticed how vital a role recreation often plays in my work. Whether it was jingle dancers or audience movement required to activate a piece, recreation has often been involved in some way. While doing research for this residency, I've had moments where I feel like I've lost the connection to play and recreation but it always comes back around and connects in a very natural way. The Playing in Public season has given me the opportunity and reminder to have fun with my work. It has also reminded me how important play and recreation are in daily life for not only physical health but mental and emotional health as well. I've consciously realized how play and recreation, while fun and lighthearted, can also be used as tools for healing and resistance.
Powwows, for example, were banned by the 1876 Indian Act, as were any cultural and spiritual ceremonies along with the wearing of traditional outfits. It wasn't until 1951 that this ban was lifted. Because of this oppressive history, I see powwows, with the different styles of dance and regalia, as an act of pride, resilience, healing, and resistance. This realization has helped me to approach my work differently, recognizing that the simplest things can have the biggest impact, that the act of playing can be the strongest form of resistance there is.
With everything that's happened this year, I feel honoured to have the opportunity to create public art because creating helps me process, communicate, and heal. The biggest challenge I've encountered creating art at this time is finding a way to make it accessible both online and in person (if it's safe). My goal is to create work that tells stories, that allows the audience to feel what I felt creating it. I find this more difficult to achieve online when a lot of the audience's sensory functions can't experience the piece like they could if they were physically in the same space. These challenges are pushing me to think in new and different ways. COVID restrictions have, oddly enough, encouraged me to get out of my comfort zone and collaborate more with artists whose areas of strength differ from mine.
You were originally intended to be The Bentway's Artist in Residence in 2020. What's challenging about taking on an artist's residency in this particular moment? How do you think your approach will change, based on everything that has happened over the last year?
It's been really nice to be able to work with other artists and connect with them on a project; breaking up the daily life isolation we've all been experiencing. I feel that working with other artists brings so much life into a project, combining experiences and perspectives, learning from and leaning on each other. It helps me see the world through someone else's eyes. This is an invaluable experience as it helps me better understand someone's experience and relate to them. It makes me a better neighbour, friend, and ally and I think that's what we need more of today; understanding that when one of us wins, we all win so we should be fighting for each others' rights.
What are you most looking forward to while working on The Bentway site — with its histories, with its features, and with its surrounding communities?
[Image] [image displayed on the left, in line with text] I really like that I'm working in a location that is reclaiming public green space in Toronto that was lost due to things like the Gardiner. That being said, The Bentway wouldn't exist without the Gardiner. It's a strange paradox and layering of experiences that is reflected in who I am. I carry the identities of both the colonizer and colonized; the part of me I am fighting to reclaim is the very thing that the other part of me set out to destroy. It's complicated and heavy and confusing but that's reality. The direction of my research has been heavily informed by this paradox as I look at the land's history and uses (did you know there are underground rivers in Toronto? …I didn't but now that I know it makes so much sense) in comparison with its current state; looking at the communities that existed here pre-contact and how they changed with colonization.
I'm excited to have the opportunity to create work that brings communities together through collaboration. I once heard someone say that we're all here now and no one is going anywhere so we need to learn how to listen to each other and work together to create a sustainable future for all of us and for our earth (because let's be honest, what we're doing now isn't it).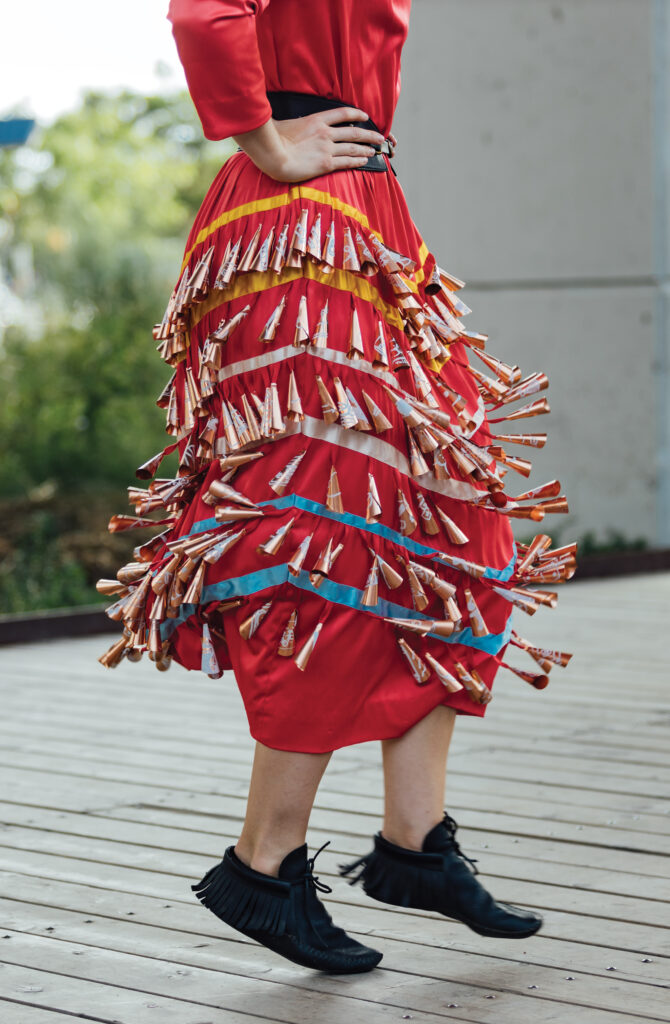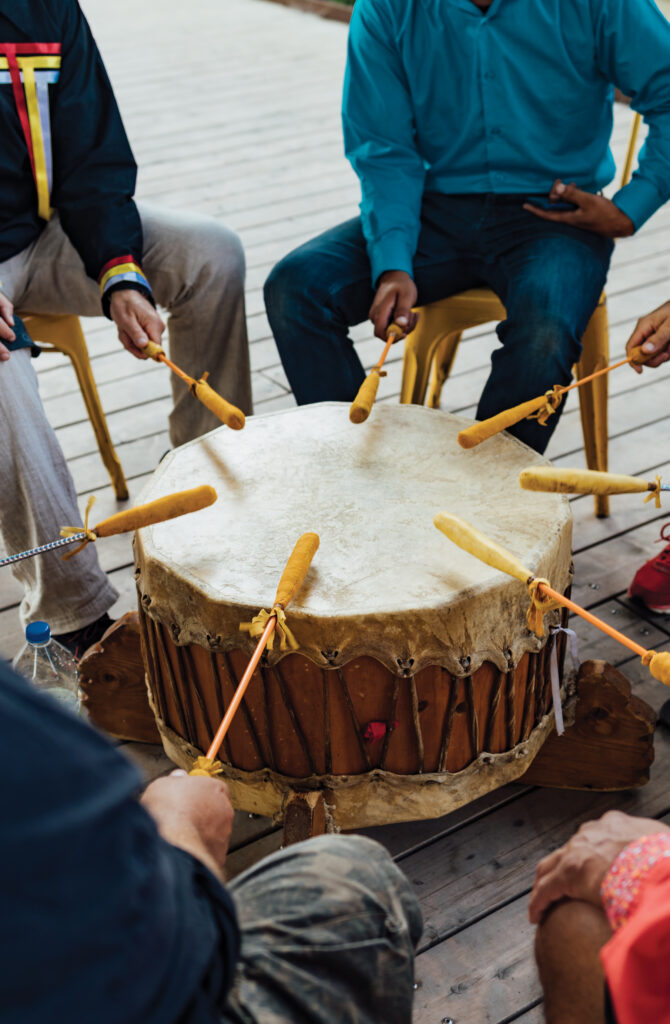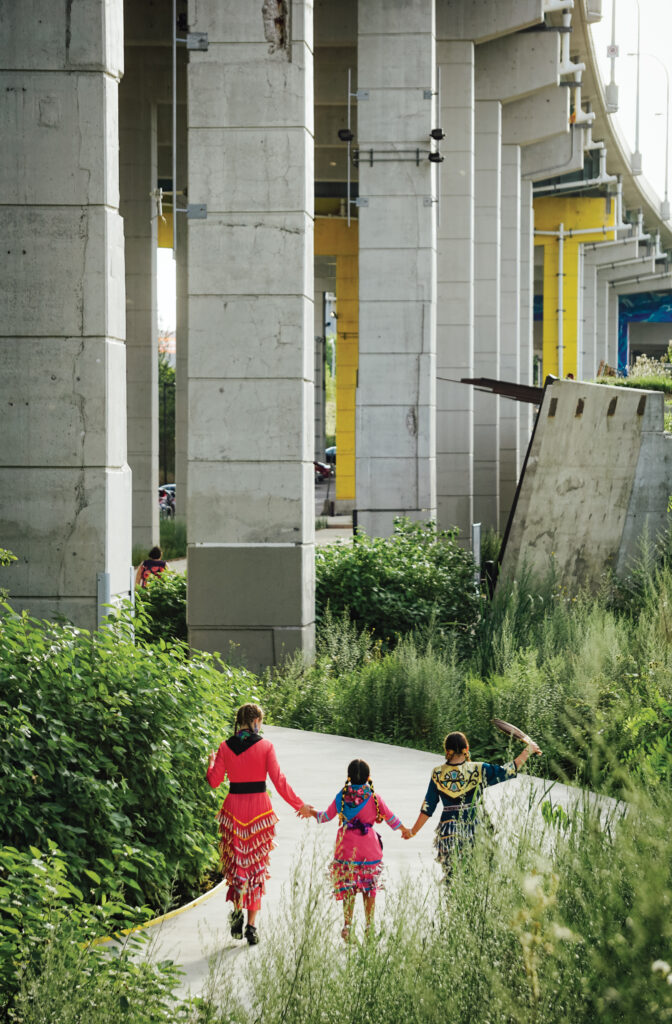 collaborators
supporters