Jess Misak and Faizaan Khan played a pivotal role in leading our 2022 Street Summit, an "un-symposium" that explored how cities everywhere can re-imagine their streets. With guidance from The Bentway team, the Fellows also advanced their own independent research.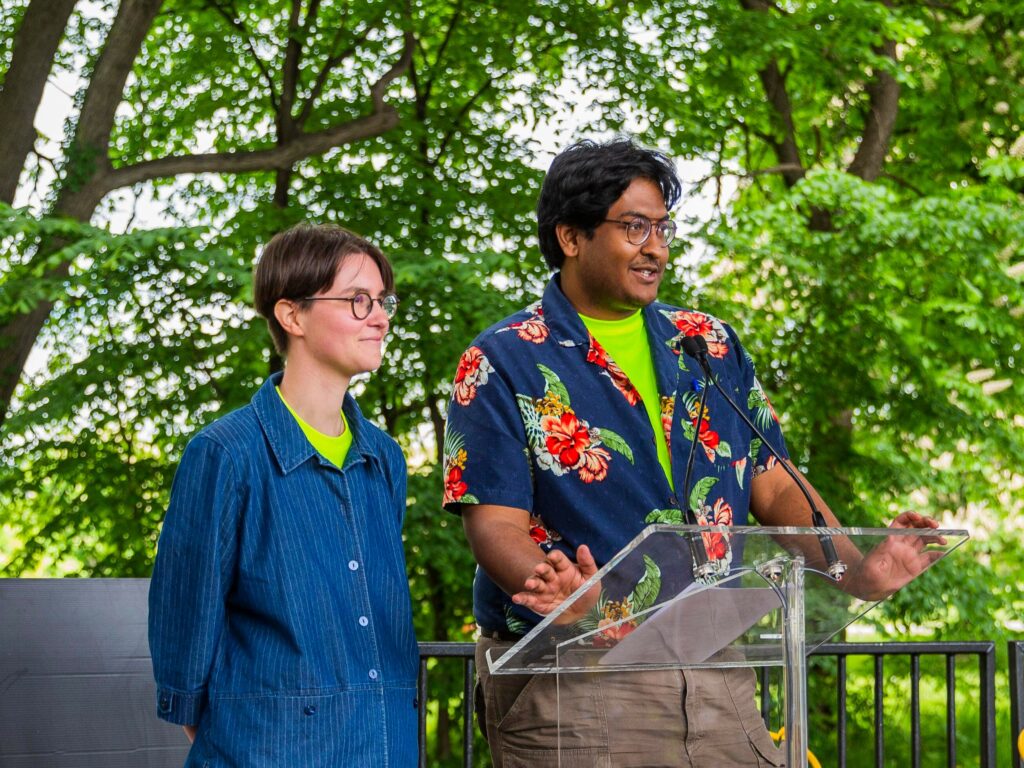 During a time marked by widespread challenges to public health and well-being, public spaces have served as essential sites for civic life; including recreation, cultural engagement, advocacy, activism and commerce. But the opportunities, recognition of expertise, and allocation of resources for city-building have long been exclusive or confined.
The Fellows helped us explore an important question:
How then can cities around the world take this moment to broaden the public space field to include, empower and value more perspectives in the development, operations and programming of our shared public realm?
The 2022 Fellows engaged directly with the focus of our Summer 2022 season, STREET, which examined the role of these shared arteries as primary sites for social, political, and cultural innovation and improvisation.
Faizaan's research project, Scarborough Journeys, looked at heritage preservation in Scarborough and how it often erases racialized and migrant narratives—both architecturally and culturally. Exploring the question of future heritage in Scarborough, Faizaan developed a series of provocations to help residents reflect on their urban environment and the memories rooted in it. By asking these questions, a new constellation of memories and stories emerged, providing vignettes of people's lives and histories that are rooted in seemingly unremarkable built forms—a constellation wholly different than the one found on the Heritage Registry.
Jess' research examined queer urban ecologies under the Gardiner Expressway , a haven for species and activities that are often excluded from conventional discussions of green public space. The Gardiner's urban natural can be understood as a queer alternative urban ecological system, one that raises the question: Which nature (and whose nature) belongs in public space? Using material studies and an exercise of assembly, Jess' research applied a queer ecological critique of the public realm under the Gardiner. This inquiry was grounded in an imperative of care and inclusion for marginal urban spaces and the relationships, activities, and natures they assemble and embody.
We invited them to reflect on their experience:
What's one highlight from your time as a Fellow?
Jess: Not knowing who I'd be paired with for the Fellowship, it was a genuine delight to connect with Faizaan in such a supportive and collaborative way. Many of my favorite moments of the Fellowship involved bouncing thoughts off each other, learning from Faizaan's perspective and research, and collaborating on The Street Summit. I'm so grateful to have shared this opportunity with my co-Fellow!
Faizaan: The highlight has to be when I got to participate in a panel discussion, hosted by Monumental and the City of Toronto, centred on commemoration in the public realm. Not only did I get to chat about my ongoing research as a Fellow, but I got to listen to, and learn from, some hugely inspiring and knowledgeable people.
What's one thing you were surprised to learn?
Jess: During our first site visit of the Fellowship, Anna (The Bentway's Senior Manager of Programming) pointed out the bent chipping that happens throughout the year on the Gardiner. It was unreal to me to realize that The Bentway site and all of the other spaces under the Gardiner are constantly in construction/change. Throughout the Fellowship I saw The Bentway space transform, and it's unbelievable how many different lives the space lives. You really realize the Gardiner itself is a true force of nature.
Faizaan: Maybe surprised isn't the right word, but I was certainly in awe of just how much work goes into maintaining and programming a public space like The Bentway. The site team is truly a force to be reckoned with.
What is one thing you hope The Bentway will continue to do or work towards?
Jess: I hope The Bentway continues to work on its layered relationship with the unhoused communities that interact with the Gardiner Expressway. Some of the most impactful work I've experienced during the Fellowship came from Sketch Working Arts, who brought an incredible artist lens of those who have lived in the space under the Gardiner. I hope to see a lot more to come.
Faizaan: The Bentway has a really great energy and willingness to experiment and learn. I hope it never loses its agility and fervour.
What advice would you give a future Fellow?
Jess: There is a huge variety of opportunities and networks at The Bentway. Don't be afraid to ask or inquire after something you are curious about, and do a little bit of personal planning to assess what you really want to get out of the Fellowship. With so many directions and opportunities, it will be important to know you can't do it all and that you'll need to find a good balance between soaking up new perspectives and striking out on your own pursuits.
Faizaan: You're here for a reason. They picked you as a Fellow for a reason. Impostor syndrome is real but don't let it stop you from experiencing all the new things the Fellowship will expose you to, and especially don't let it stop you from applying for the Fellowship. Ask questions and soak up lots of knowledge, but also be secure in the fact that you have something to contribute to the conversation. (also reach out, more than happy to chat about the Fellowship!)