The Bentway and City of Toronto invite you to contribute to the Under Gardiner Public Realm Plan
May 18, 2022 [Toronto/Tkaronto, ON] – Today The Bentway and the City of Toronto released early details of the work underway on the Under Gardiner Public Realm Plan: a collaborative effort to guide further development of the parks, open spaces, paths, and intersections under and adjacent-to the Gardiner Expressway.
From now until June 30, members of the public are invited to learn more about this ongoing work and contribute their thoughts, ideas and feedback at undergardinerPRP.ca to inform the next stage of the planning process.
"Phase 1 of The Bentway opened in 2018, demonstrating how the Expressway can support civic life alongside mobility needs, and the imagination that Toronto is capable of," says Ilana Altman, Co-Executive Director of The Bentway. "Now, as the city considers a growing and connected series of public spaces along the Gardiner corridor, we want Torontonians to help shape a hybrid future for this shared infrastructure."
The Gardiner runs elevated for 6.5km and past 17 downtown neighbourhoods (from Dufferin St to the DVP), moving more than 140,000 vehicles every day. A defining feature of Toronto's landscape, the Gardiner corridor links major civic priorities present and future – including planned Ontario Line stations at Exhibition Place and East Harbour; attractions like BMO Field, Rogers Centre, and Scotiabank Arena; as well as the Waterfront, Quayside, and the Port Lands. As the City of Toronto works to rehabilitate the roadway, and bring new life to surrounding communities, there is an opportunity to reimagine how this infrastructure can connect, perform, and inspire.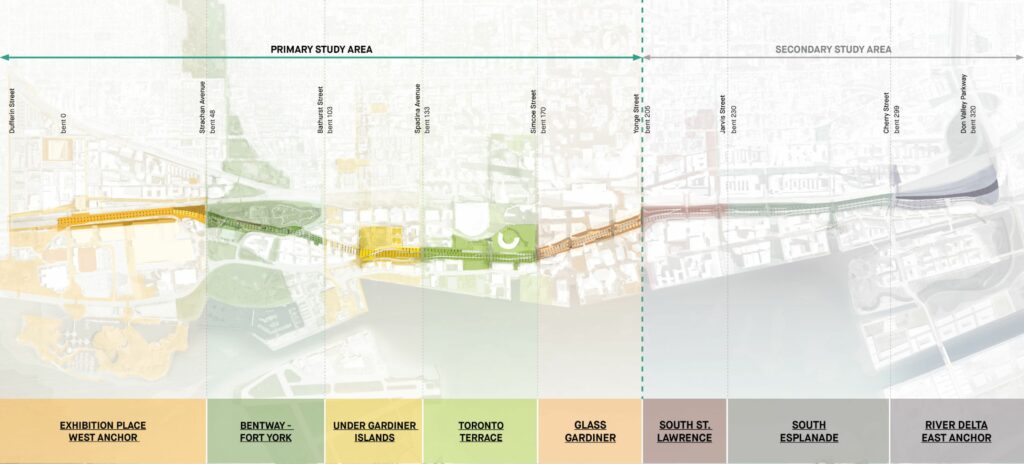 The creation of the Under Gardiner Public Realm Plan is an inclusive, multi-staged process (with a second round of public engagement to follow later this year) and a joint effort between The City of Toronto and The Bentway, leveraging subject matter expertise, perspectives, and public voices. Project consultants include PUBLIC WORK (conceptual corridor design lead), Two Row Architects, Transsolar KlimaEngineering, and Third Party Public.
On May 27 and 28, the public is invited to visit the Under Gardiner Public Realm Plan Consultation Booth at The Bentway's Street Summit, where they are encouraged to ask questions, learn more about the spaces under the Gardiner, and add their input.
For details visit: undergardinerPRP.ca.
Media Inquiries:
Duncan Peng, Craft Public Relations
Duncan@craftpublicrelations.com
647-865-2552